USE CODE: "MYSIZE"
DURING CHECKOUT IN OCTOBER & SAVE 15% ON MY.SIZE CONDOMS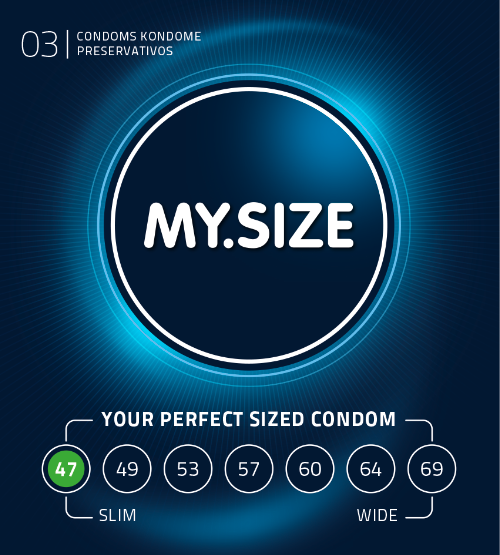 It only feels right when it fits right.
Think about it, everything you put on your body - from gloves to hats to jackets - is perfectly sized to you. And now so is your condom. With a custom fit MY.SIZE condom , you will feel everything and fear nothing.
7 SIZES - REALLY SOMETHING FOR EVERYONE
MY.SIZE condoms come in 7 sizes, ranging from 47 mm to 69 mm width. So there's definitely the right size for everyone to get the perfect fitting condom. MY.SIZE also makes it very easy for men to find the right condom size by using the MY.SIZE measuring tools.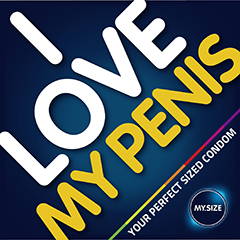 ---
THE CONDOM HAS TO FIT THE PENIS, NOT THE OTHERWAY ROUND!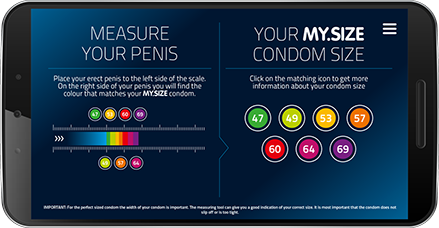 The MY.SIZE app sheds light on tabooed, tongue-tied areas: safe, enjoyable sex is finally possible. In the past, millions of couples, unaware of their correct condom size, would experience safe and enjoyable sex with standard condoms only by coincidence, when the condom would accidently fit. It was accepted – and unfortunately still is - that with condoms it was simply like that. Whether the condom actually fit the man wasn't even considered.
---
THE FACT THAT MEN AND THEIR PENISES ARE DIFFERENT IS WELL-KNOWN:
LATEX IS NOT AS PLIABLE AS THE SENSATION OF THE PENIS!
Every penis immediately feels if there is more or less room available in the latex skin - with the known effects of slippage, breakage, re-duced blood circulation and dull sensation to name a few.